Visas and entry conditions in Mozambique
Visa requirements *

All visitors must hold a passport valid for at least 3 months.

Visa-free nationalities:

Transit:

Special passports:

Nationalities needing a visa:

Note: a passenger who does not have Mozambican identity papers (passport or identity card) is considered as a foreign passenger even if he / she has a multi-citizenship and must therefore be in possession of a visa .
How to obtain a visa ? *

Conditions: You must have a passport valid for at least 3 months and contain at least two empty pages.

Standard procedure in embassies: If you are not eligible for one of the visa exemptions detailed above or if you wish to obtain a longer visa or visa for a reason other than a family or tourism stay you can go to the nearest Mozambican diplomatic representation (see the addresses and contact details of the embassies and consulates of the Republic of Mozambique).
* Updated to January 6th 2018. Conditions for obtaining visas, their rates and the nationalities concerned change regularly according to the diplomatic news. Please check systematically what formalities you are subject to.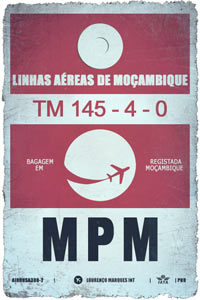 Log in

Contact us

About

2013-2019 Aeroporto-Maputo.com.